02 Nov

Canada's Coolest Hotel Penthouses

If you've been looking for something a bit out of the ordinary when it comes to your Canada hotel experiences, you've stumbled upon the right blog. As experts in unique Canadian vacation indulgences, we know a thing or two about what makes a fantastic "north of the border" escape, and here we're going to showcase some of our favorite unique hotel penthouses that will take your Canada lodging expectations to dizzying new heights – quite literally.

You're going to have to give me a little leeway as well as some of these suites don't take up the entire top floor but most of it. Hotel's have to make good use of their space so usually it's hard to find a hotel that has dedicated the entire floor to one suite.
The Delta Ocean Pointe Hotel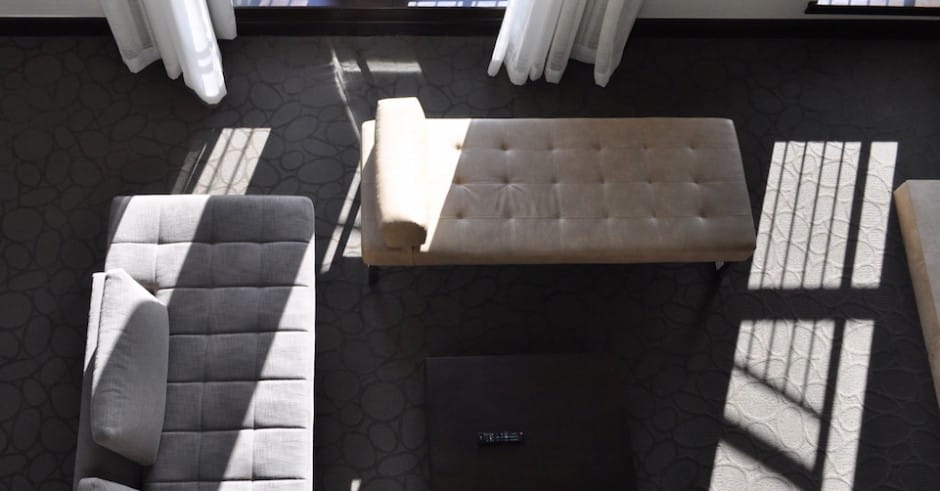 Often referred to – and for good reason – "Victoria's poshest hotel," The Delta Ocean Pointe boasts one of the most luxurious loft penthouses you've ever laid eyes on. This jaw-dropping space, awe-inspiring not only because of its myriad of interior amenities but also because it features what many believe is the best view of any hotel room in this city, allows you to sit on the penthouse deck to watch boats, kayakers and seaplanes come and go while taking in the views of the Parliament Buildings and nearby Empress Hotel…a picturesque enchantment that simply cannot be topped.
Further, The Delta Ocean Pointe penthouse offers these views from both floors – from the same massive window, giving you a hint of this gorgeous space's formidable scale. The suite is beautifully furnished with a modern flair, an element that goes hand-in-hand with the recently-renovated luxury hotel.
The Fairmont Pacific Rim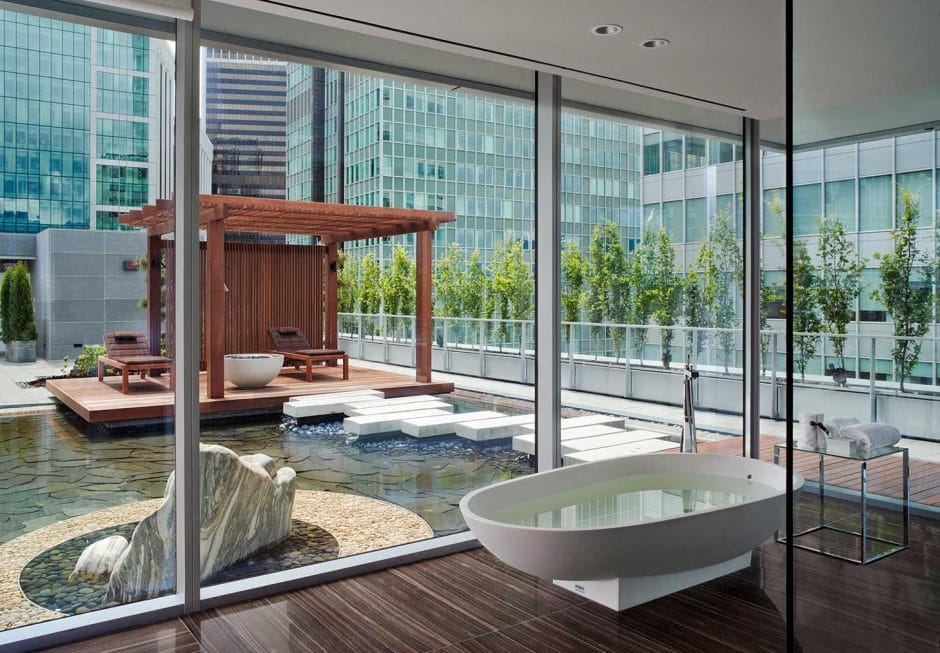 Though this beautiful property boasts a number of spectacular suites, it's the Chairman's Suite that really stands out for a plethora of reasons. Dubbed the "Rock Star Suite" because of its private elevator and elegant entertaining option, this space was inspired by a Balinese Villa and is often described as a one-of-a-kind two-story masterpiece offering a spacious and open floor plan, complete with over 2,250 square-feet of pure luxury. Additionally, the Chairman's Suite includes a custom eight-foot-long Swarovski crystal chandelier that cascades over the two-story salon, a master bedroom located on the top floor that features a fireplace, king-size bed and impressive 500 square-foot en-suite marble bathroom with a hand-carved soaker tub.
Not enough luxury for you? How about two stunning living room areas, kitchen and pantry, as well as an exclusive outdoor rooftop patio boasting expansive views of Coal Harbour and the North Shore Mountains which includes a private gazebo with meditation pond and fire pit (to say nothing of the private rooftop tented terrace). If additional room is required for your particular stay, this suite also offers the option to connect to a separate guest room for a total of 2,650 square-feet of glamorous space. What's more, all guests staying overnight in the Chairman's Suite are also treated to Fairmont Gold services and benefits providing "the luxe life" including private check-in, personalized butler and concierge services, a signature 20th-floor lounge and a private terrace overlooking Coal Harbour, Stanley Park and the snow-capped North Shore Mountains.
While this is not quite a penthouse, it is kind of its own unique unit on top of a certain area so I had to work it in. The true penthouse at the Pacific Rim is privately owned so we could not count that.
Loden Hotel Halo Penthouse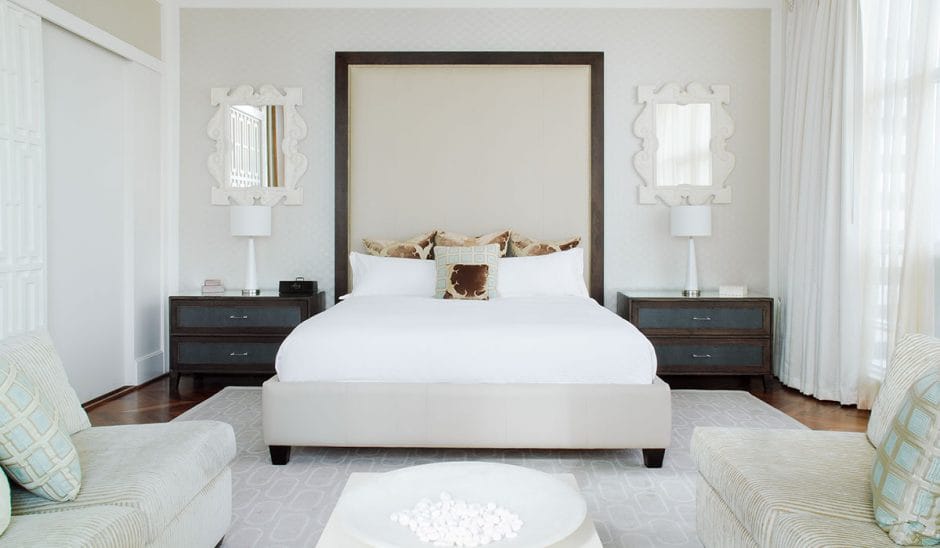 The Loden's Halo Penthouse offers two bedrooms, two-and-a-half bathrooms, ample closet space, a full kitchen and a dining area that can comfortably accommodate up to six guests. This expansive suite boasts 1,600 square-feet of living space and spans the entire top floor of the hotel, with each room having direct access to the 1,400 square-foot wraparound rooftop terrace with panoramic views of Vancouver's Coal Harbour and the North Shore Mountains.
EPIK Hotel Montreal

The multipurpose EPIK Penthouse Suite has it all – space for private events or a memorable and cozy getaway; furnishings with rich fabrics and textures such as leather, wood and steel in addition to original stone and brickwork and a special ambiance that defines the epitome of luxury. The fully-equipped three-level loft also features two bedrooms; two private furnished top terraces; two washrooms with rain showers, steam shower and bath; large flat-screen television; sound system; fully-equipped kitchen; dishwasher; wine cellar; multiple skylights and living room and dining room that seat up to 12.
Boasting spectacular views of Old Montreal, Notre Dame Basilica and St-Paul Street, this unique experience offers an unforgettable mix of contemporary and classic.
The Templar Hotel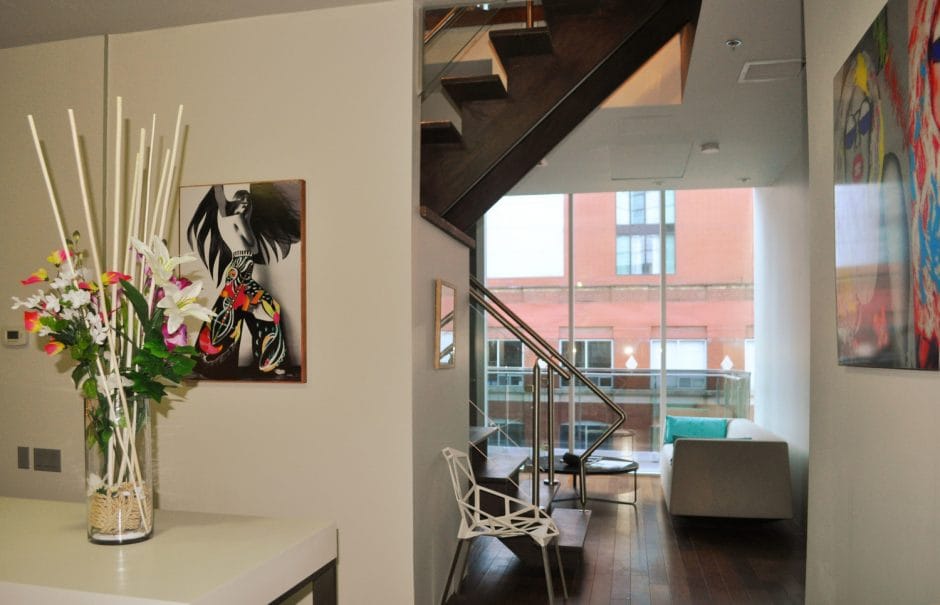 Of all the exemplary accommodation options at the beautiful Templar, its King West Loft – aka "Room 7.4" – represents a luxurious penthouse suite that comfortably sleeps four adults, with a lower level that comprises a half bath, full walk-out terrace with a southwest view and a showpiece Miele kitchen. The master bedroom and bath of this phenomenal space are located on the sprawling upper level, which includes a den and queen-sized sofa sleeper.
Definitely put The Templar Hotel on your short list of penthouse considerations.
The Fairmont Palliser Royal Suite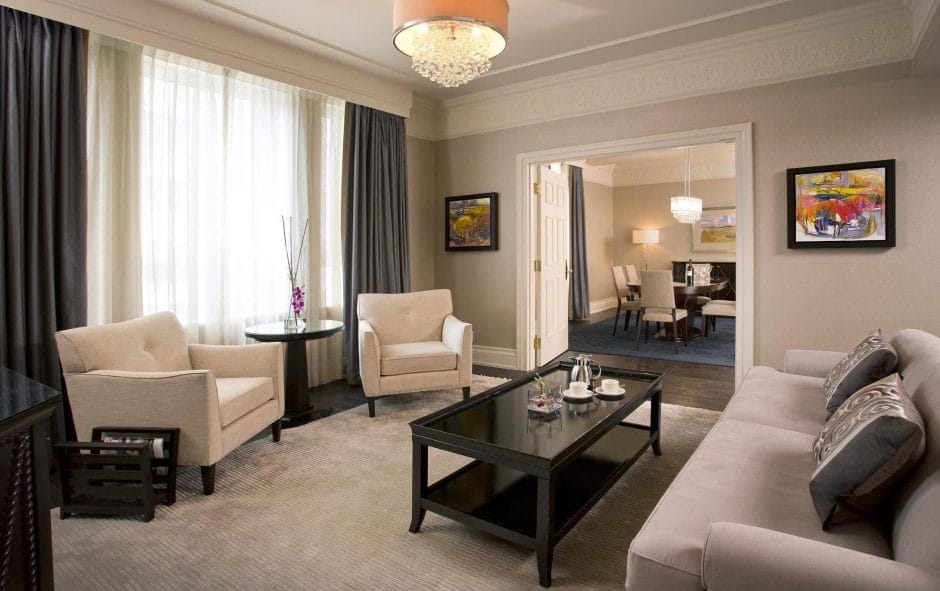 Whether you travel for business or leisure, The Fairmont Gold approach offers a level of service and recognition that will help you make the most of every moment, while sweeping you off your feet by ensuring a stay that is nothing short of unforgettable. At The Fairmont Palliser, this experience is capped off by the category-leading Royal Suite, a luxurious space that was home to Queen Elizabeth II during her trip to Calgary in June of 1990. Located on the Fairmont Gold floor, this distinctive suite boasts a sprawling bedroom, living room, two bathrooms and a regal dining room which seats six. Guests staying in the Royal Suite are entitled to all Fairmont Gold services and privileges, including complimentary deluxe continental breakfast and evening hors d'oeuvres.
If required, the Royal Suite can connect to two Fairmont Gold guest rooms.
The Matrix Hotel Onyx Suite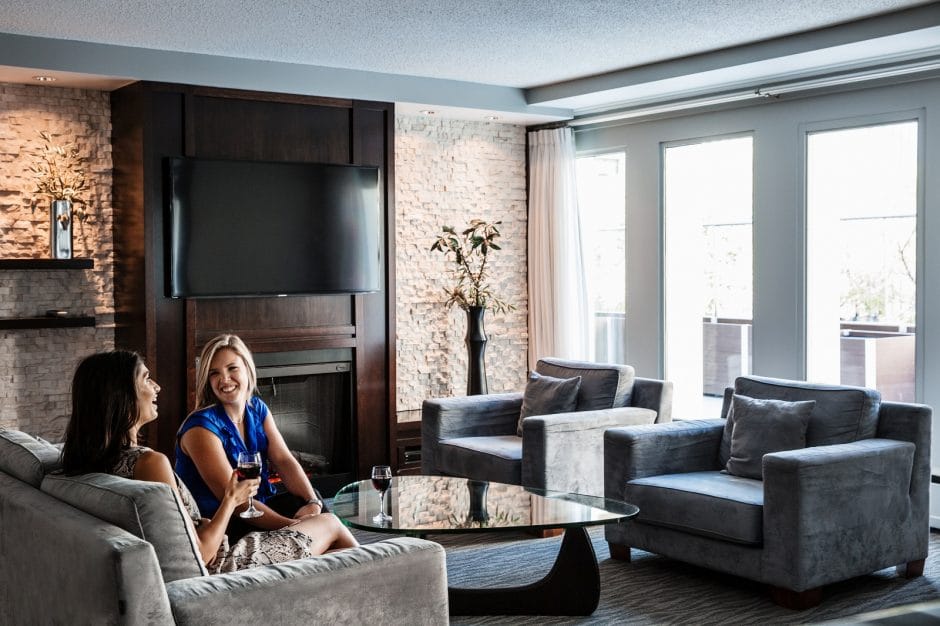 In believing that comfort, luxury and great design should come standard with every hotel room, representatives of The Matrix Hotel of Edmonton infuses all accommodations with a stylish palette of silver, pewter and platinum hues as a backdrop for rich wood, sleek black granite and textural art. Additionally, wall-to-wall windows frame views of downtown Edmonton in each guest room, which also feature a 46-inch HD LED television with deluxe channel lineup, complimentary fast and reliable property-wide Wi-Fi, complimentary Keurig coffee and tea services, iHome alarm clock radio with NFC Bluetooth and USB charging, complimentary Earth Water, luxurious towels and spa-quality bathrobes, Molten Brown amenities and much more.
The hotel's Onyx Suite takes this to a whole different level, adding 857 square-feet of luxury and amenities, including a walk-out terrace with seating area for entertaining and relaxing. Don't miss this spectacular one-bedroom masterpiece if you're looking to be pampered Canadian style.
Downtown Executive Suites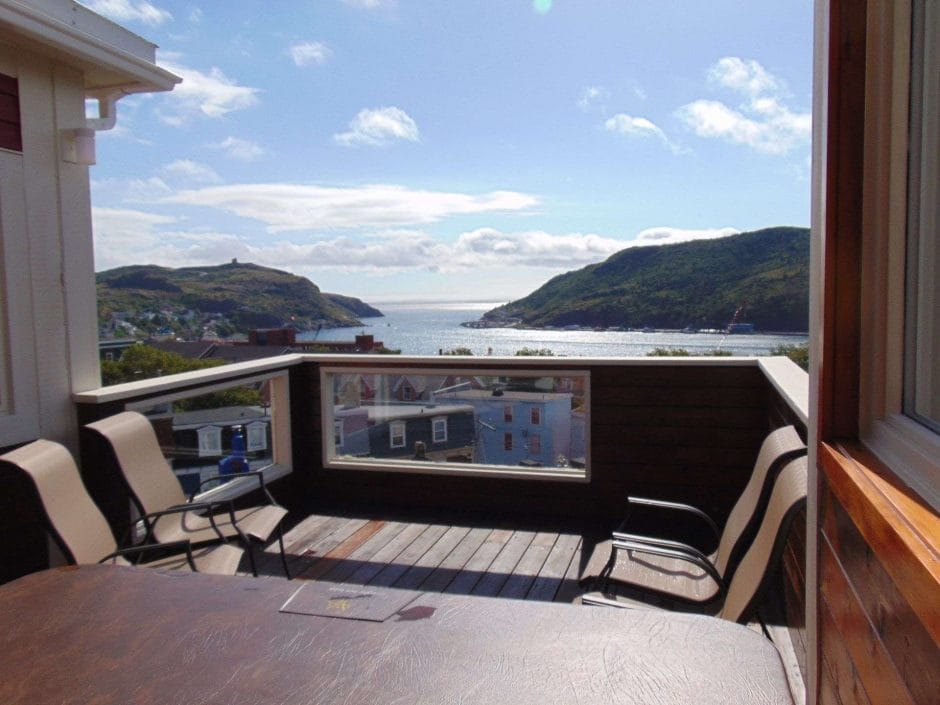 The Grand Five Bedroom Downtown Penthouse at the Downtown Executive Suites' Queens Road location is a jaw-dropping five-bedroom wonder with breathtaking views of St. John's Harbor and Signal Hill, outdoor hot tub on an upper patio deck, fully-equipped executive kitchen on the second floor, eating area off the kitchen, fully-equipped kitchenette on the top level, three en-suite bathrooms (with a one-half bath downstairs), private sauna and walk-in closet, heated hardwood floors throughout, formal dining room for eight to 10 people, a sun room off the kitchen, sound system throughout, fully-equipped laundry room, multiple fireplaces, Wi-Fi throughout, personalized keyless entry system and parking for two cars with additional parking available.
To say that no one does it like Downtown Executive Suites in Newfoundland is a massive understatement.
Ready To Explore?
We here at Butiq Escapes have placed our stamp of approval on each and every one of these eye-opening penthouses and suites, so if you're ready to unleash your "socialite within," you can book your getaway directly with us!