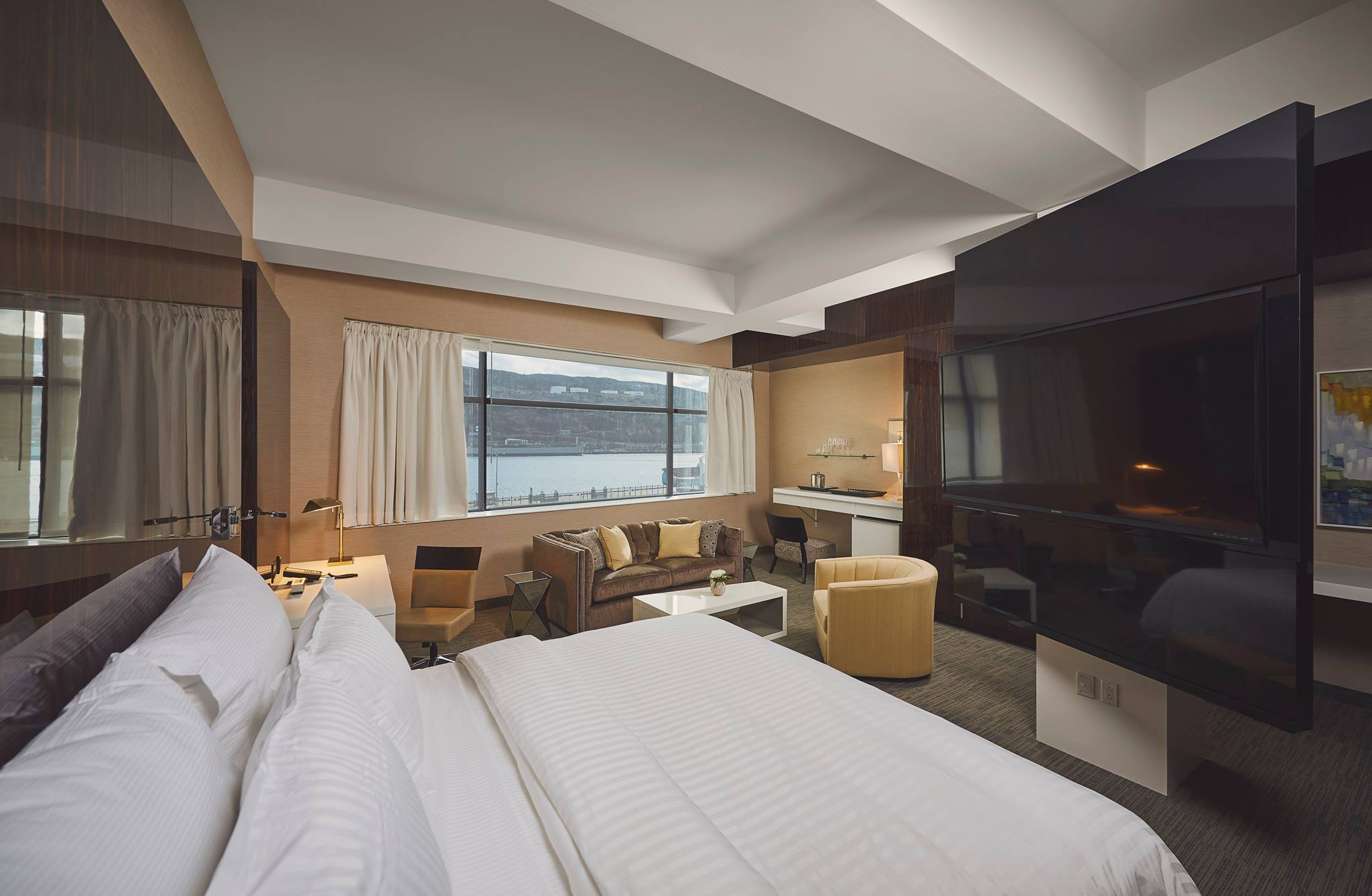 21 Jan

A Newfoundland Boutique Hotel With A Lot Of Charm

Close your eyes and imagine, for a moment, a six-room boutique hotel property that overlooks a beautiful harbour and which boasts a valet to take you directly to your room and register you en route, rooms with power drapes, heated bathroom floors, a power outlet in the safe to charge secured devices and just about every hospitality and technology frill conceivable. Sound too good to be true?

This is vivid reality at The Luxus of St. John's, Newfoundland, a sprawling yet intimate property that effortlessly blends cool design, serene atmospherics and stunning views to earn it five-star ratings by anyone who has experienced this foray into supreme pampering. Redefining "modern boutique" on St. Johns' burgeoning hotel/resort circuit, The Luxus is known first and foremost for its envy-inducing rooms, divided amongst one-bedroom and two-bedroom suites right in the heart of town.
The Luxus Boutique Hotel

If you can peel your eyes away from the jaw-dropping view of St. John's Harbour – no easy task – you'll be mesmerized by The Luxus' one-bedroom suites, which boast 11.5-foot ceilings, polished walnut walls, gorgeous washrooms with the aforementioned heated floors and an impressive walk-in closet, which is accessed by running your fingers along the wall and finding the hidden entrance. After what feels like an eternity staring out into the seductive harbour, you will eventually turn back around to admire the rest of the room – the custom furnishings, the bar with crystal glassware and the massive window into the awe-inspiring bathroom, in which resides jurassic onyx sinks, heated floors inside and out of the shower and a view of St. John's Harbour from the soaker tub.
The two-bedroom suites offer a similar foray into deluxe indulgences with the warm feel of wood moldings around the doors, soft recessed lighting in the ceiling beams and a rear bedroom that's complete with its own share of walnut in addition to a queen-sized bed, accent chair and 60-inch HD Smart TV – to say nothing of the full walk-in closet that holds luxurious robes and slippers, as well as a velour-lined drawer to make even jewelry feel comfortable.
Meanwhile, ancient petrified wood sinks adorn the two-bedroom suites' modern bathroom with its bidet toilet seat, heated towel racks, heated floors inside the shower and out and, of course, the soaker tub. Not enough? How about soaking while watching the secondary – and massive – 70-inch TV, which can also rotate to be better viewed from the custom furnishings in the living room area.
Beyond the wildly impressive lodging offered by The Luxus are a number of amenities guaranteed to impress on the same level, including an exercise room, conference room, breakfast bar, secure elevator and convenient off-street parking. The hotel's luxurious lounge has become one of the city's most popular and highly-rated spots, offering a Happy Hour experience every day from 4 pm to 7 pm and a chance to mingle with a friendly St. John's local or two.
Wanna Go?
Get in touch with us to stay here or plan a trip to Newfoundland 1-888-201-0514.